~~~~~~NEW~~~~~~

One-day Mini Conferences brought to Your Region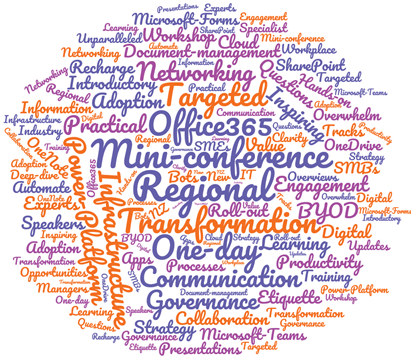 These are local events, with a focus on what is most important (and relevant) to YOU in your organisations. They provide a high value opportunity for learning and networking, with takeaways for immediate use.

Who is it for?

We have designed a one day event to take place in 6 regional locations across NZ, specially crafted for small-medium sized businesses.
If you are from a larger organisation, the content suits operational roles, business champions and power users.
Anyone who requires the same practical application and/or education and inspiration around the technologies. If you are involved in planning, deploying, using or training in Microsoft Office 365 Technologies - then you will find something of value.
What will be presented?
The content will be targeted to two concurrent tracks:
"What's possible" – demonstrations, case studies, showcasing capability – which is great for people starting out, needing to know more, and spot opportunities for where they can maximise the organisation's technology investment.
"How-to Sessions" – practical hands on, interactive sessions, where people get to try things out and be able to take what they learn and implement it back at the office immediately.
Products Covered include : Microsoft Teams, SharePoint, OneNote, OneDrive, Forms, Power Automate, Power Apps, Stream, To Do, and Planner
Other topics include: Engagement and Adoption, Implementation Best Practices and Governance, Microsoft 365 - Security, Infrastructure, Device management, Business Process Improvement, and Task Management, Mobile and Productivity.
REGISTER NOW:
Click on your location below to register.
Full day Standard Admission: $365.00 plus GST.

Standard ticket includes full day access to 11 sessions
Morning/afternoon teas and lunch included
Full day VIP Admission: $425.00 plus GST (25 Passes only)

Standard ticket as above plus the below (valued at over $350.00)
Post Conference VIP Only Event to enjoy a beverage at the Q&A Session (5.15-6.15 pm)
Personal Consultation one-on-one with an Industry Expert - 30 minutes online. Ideal for planning, questions, issues and advice!
One Month access to Online Training Courses (OneDrive, Teams and OneNote)
---
Agenda: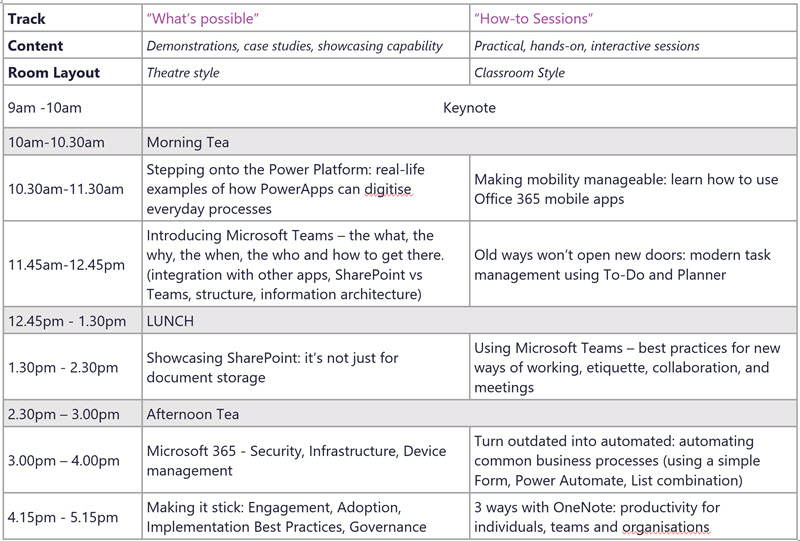 Note: The agenda and presenters are still being confirmed and this is subject to change.
---
Auckland - Annual Digital Workplace Conference 12-13 May www.dwcnz.co.nz
Just to differentiate, DWC (Digital Workplace Conference), our main 2 day event, is where we present more strategic, theoretical and deeper dive sessions and corporate customer examples. Often these attendees are more advanced in their use of the Office 365 apps already. They have more influence over implementation and design and need to be able to take information from the conference, to steer decisions.
Come to one, or attend both! Your choice!
---
Partners
If you are interested in participating in this event as one of our partners, presenters and exhibitors, please email us for more information: [email protected]